SAFE DRINKING WATER FOR BETTER HEALTH AND A BETTER LIFE
POTABLE AQUA UNIT - LASTING & AFFORDABLE

PAULA can remove 99.9999% of viruses (LRV=6)
Adheres to WHO Drinking Water Standards
Can treat 2 – 8 m3/d raw water from rivers, canals. lakes, or wells to achieve drinking-water quality

Low power consumption
Low-cost investment and operation
Required civil construction work can be done by local contractors

Is suitable for implementation, even in remote areas 
Can be delivered prefabricated in parts to be assembled on site
Needs only one day for on-site assembly 
Easy to handle and operate, even by unskilled workers 
PAULA Water GmbH was established in Viersen, Germany, in 2012.
The company's objective is to contribute to the improvement of the decentralised water supply in emerging and developing countries.
PAULA Water GmbH offers high efficient, sustainable water purification plants in different dimensions, which deliver hygienically safe drinking water to the population.
In terms of technical research and development work PAULA Water GmbH closely cooperates with several Universities in Germany. Due to this cooperation PAULA Water GmbH possesses extensive know-how and long-time experience in the field of sanitary environmental engineering.
WHAT IS PAULA?

PAULAS CONSTRUCTION

WHERE TO BUY
PAULA stands for POTABLE AQUA UNIT – LASTING & AFFORDABLE.
PAULA is a small water treatment plant for the production of hygienically safe drinking water, even in remote areas.
PAULA was developed in close cooperation between the University of Kassel and the engineers of PAULA Water GmbH. The first large scale plant went into operation in 2010 in the Dong Thap Province, Vietnam – as a prototype.
The system undergoes constant, continuous research with the goal of improving both efficiency and performance. PAULA is a high tech facility designed to keep operation as simple as possible.
PAULA's heart is a nano filtration membrane. The entire plant comprises the necessary pumps, piping installation and even a chlorination if required.
The core components like pumps, membrane, and chlorine unit are made in Japan, Germany and France.
The PAULA treatment plant can be delivered containerized, ready to use or as assembly kit. It is installed on a reinforced concrete ground slab. When assembled on-site it has to be roofed with wood, steel sheets or any local construction material.
As PAULA was registered at the German Patent and Trademark Office in September 2014 an Utility Model Certificate is existing.
For further information please feel free to visit our Links/ Downloads and Reference page.
PAULA Water GmbH sells PAULA directly to its customers.
If you are interested in buying a plant, please contact us as follows:
PAULA Water GmbH
Duesseldorfer Str. 25
41749 Viersen
Phone: +49-2162-5 78 06-0
Fax: +49-2162-5 78 06-22
Email: info@paula-water.com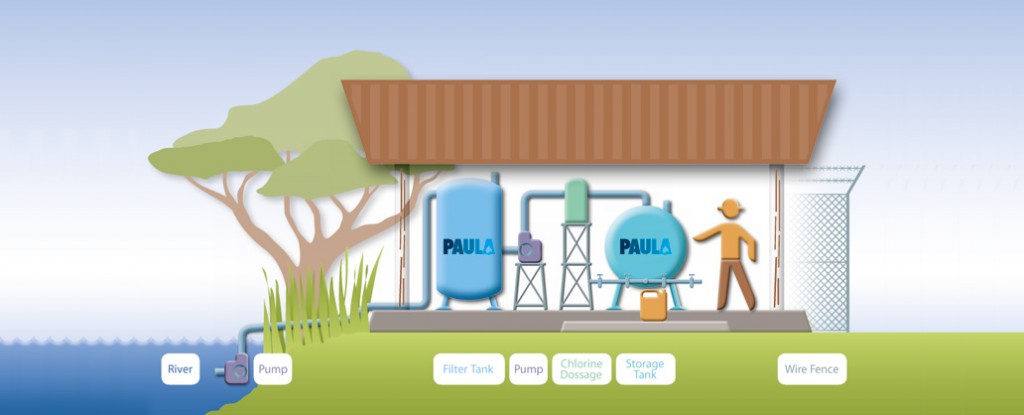 REFERENCES

CERTIFICATIONS

VIDEO
Uni Kassel
action medeor
Dr. Ghawami – World University Service (WUS)
Malaika Camp
Paul
SOS Kinderdörfer
Children's Hospital in Kinshasa, Kongo
German Water Partnership 
Upendo e.V.–ECLAT Foundation
www.upendo-entwicklungsprojekte.de
FiW e.V.
Bieske & Partner –Beratende Ingenieure GmbH
Unternehmerinitiative Niederrhein
Bundesministerium für Deutsche Zusammenarbeit und Entwicklung
Download information on PAULA stationary drinking water treatment plant
(04.09.2014) Rheinische Post: Benefizturnier - Prominente Golfen für einen einen guten Zweck
(30.07.2014) Rheinische Post: Paula filtert Wasser im SOS Kinderdorf
(15.07.2014) Zeitung Vietnam: Donation of PAULA Da Nang
(14.07.2014) Einweihung SOS Kinderdorf Da Nang
(28.06.2014) Rheinische Post: Drohne bei action medeor in Vorst
(15.06.2014) Kirchenzeitung Aachen: Erste Spende gilt sauberem Wasser
(06.06.2014) Artikel auf der Homepage SOS-Kinderdorf Da Nang - Aktuelles
(06.06.2014) Entsorga Magazin: IFAT-Meldungen S20
(18.05.2014) ExtraTipp: Sauberes Wasser dank Paula
(15.05.2014) Rheinische Post: Sauberes Wasser ist kein alltägliches Gut
(15.05.2014) WZ: Eine Pumpe für Tansania
(15.05.2014) WZ pages: PAULA - Eine Pumpe für Tansania
(14.05.2014) WZ: Eine Wasseraufbereitungsanlage für Tansania
(14.05.2014) wdr.de: Veröffentlichungen Start UI
(14.12.2015) Plöner Seeblick: Paula macht aus Wasser Trinkwasser
(18.11.2015) Gemüse - Das Magazin für den professionellen Gemüsebau: Membrananlage "PAULA" für keimfreies Wasser
(06.09.2015) Handing over PAULA5 to Huong Son High School, Vietnam
(07.08.2015) TASPO - Zeitung für den Grünen Markt: Wasserentkeimung mit PAULA
(06.08.2015) SOS Kinderdörfer - Jahrbuch 2015: Sauberes Trinkwasser in Da Nang, Vietnam
(21.12.2016) GWP Newsletter 03/2016 (Auszug) - PAULA Water GmbH neues Mitglied bei German Water Partnership
(20.10.2016) Sauberes Wasser für das SOS-Kinderdorf Ca Mau in Vietnam
(11.08.2016) Facebook - Neue PAULA Anlage für Kimbondo e.V. - Frisches Wasser in Kinshasa
(05.05.2016) Neue Züricher Zeitung: Tabletten für die Welt
(10.03.2016) Spenden statt schenken - MEDIA Central engagiert sich für action medeor
(07.03.2016) Urbano - Stadtmagazin Mönchengladbach: Media Central - Spendenaktion für PAULA und action medeor
(12.01.2016) Facebook - Projektanlage Sengerema Hospital in Tansania wird 1 Jahr!
(06.01.2016) Facebook - PAULA macht sich auf den Weg nach Ha Tinh - Vietnam
(06.01.2016) Facebook - Spenden statt schenken: Media Central spendet eine PAULA Anlage für Vietnam
(13.11.2017) Report of completely contented customer - SOS children's villages, Vietnam
(28.09.2017) TeamExperience 2017 Teilnehmerurkunde
(27.09.2017) Stadtspiegel: TeamExperience 2017 - Regionale Unternehmen unterstützen action medeor
(14.07.2017) Borneo Post online - "PAULA" to be tested in remote Sarawak
(31.05.2017) Upendo Informationsbrief: Eröffnung des PAULA Wasserprojektes
(27.05.2017) Rheinische Post: Sauberes Wasser für afrikanisches Dorf
(08.02.2017) Facebook - Eröffnungsfeier der bisher größten PAULA-Anlage im Dorf Sukuro
(05.01.2017) Water Report 2017 of treated water for village Sukuro, Tanzania
(05.11.2018) Water Solutions: Safe drinking water for better life
(17.04.2018) Leverkusener Anzeiger: Hilfe zur Selbsthilfe für Projekte in Tansania