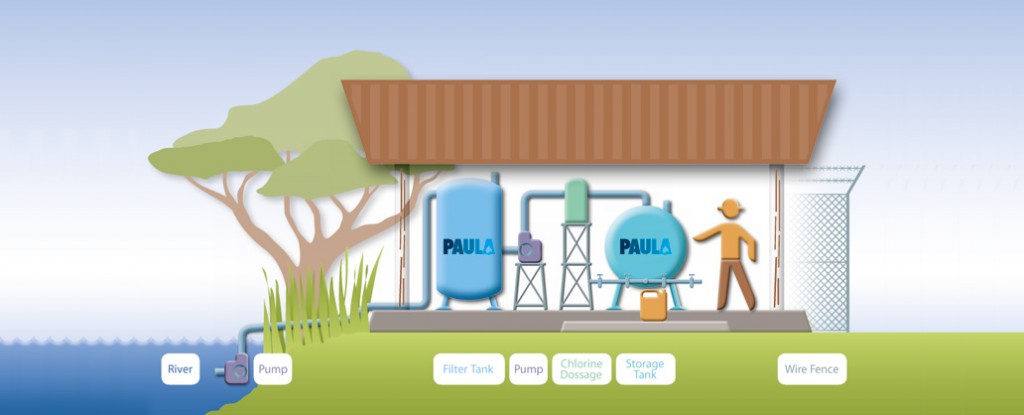 PAULA is a stationary water treatment plant which is able to produce hygienically safe drinking water, even in remote areas. The plant can treat raw water from different sources like rivers, canals, lakes, ponds or wells. PAULA can provide long-term use in developing countries beyond the emergency and disaster context. The system can deliver large volumes of treatment (up to 24,000 liters daily) so that, for example, entire communities and institutions such as hospitals, universities or schools can be permanently supplied.
PAULA was developed in close cooperation between the University of Kassel and the engineers of PAULA Water GmbH. The first two PAULA plants went into operation in 2011 in the Dong Thap Province, Vietnam – as prototypes. After implementation of the first PAULA plants, the system was further investigated and developed to improve both efficiency and performance. After three more years of research and development the PAULA plant was registered at the German Patent and Trademark Office in September 2014 as Utility Model (see the certificate here).
PAULA's heart is an ultrafiltration membrane. The entire plant comprises the necessary pumps, piping installation and even a chlorination if required. There are different sizes of PAULA plants available depending on the local demand.
For further information, please visit the pages Links/ Downloads and References or write directly to us by using the contact form.
POTABLE AQUA UNIT - LASTING & AFFORDABLE

PAULA can remove 99.9999% of viruses (LRV=6)
Adheres to WHO Drinking Water Standards
Can treat 2 – 8 m3/d raw water from rivers, canals. lakes, or wells to achieve drinking-water quality

Low power consumption
Low-cost investment and operation
Required civil construction work can be done by local contractors

Is suitable for implementation, even in remote areas 
Can be delivered prefabricated in parts to be assembled on site
Needs only one day for on-site assembly 
Easy to handle and operate, even by unskilled workers 
From a prefabricated solution to local implementation
_
After the PAULA plant was patented in 2014, it was initially delivered to the project sites as a prefabricated solution. The plant was planned and installed in a container in Germany and then transported by ship to various destination countries. Once the container had reached its destination, the plant was connected to the raw water source on site by PAULA Water GmbH and put into operation.
In order to reduce the  price of the PAULA plants and to make the plant more affordable, PAULA Water GmbH pursued the transition to a new model in which extensive manufacturing and installation steps were moved to the destination country and as few components as possible were exported. In 2018, Dr.-Ing. Richard Damiecki, one of the shareholders of PAULA Water GmbH, built a first PAULA plant in Kenya by using materials that – with the exception of the ultrafiltration membranes and diaphragm pumps – were mainly purchased on local markets. The local planning and installation of the plant was carried out together with local stakeholders.
Based on the success of local PAULA plant installation in Kenya, PAULA Water GmbH continued to implement PAULA plants in cooperation with local companies, organizations and operator communities. The investment costs of PAULA plants could be significantly reduced through on-site construction and installation. At the same time, a better adaptability to local conditions as well as a higher acceptance through participation and collaboration of local organizations, companies and operator communities could be achieved.
Have a look in our news block (see here) to read about our recent projects!